Beambtenbar
The Beambtenbar was staged at the performance art event It's Happening Now! at Club 11 in May 2007.
A beambte (dutch) is defined as an employee serving in a lower civil service position or functionaris die een lager ambt uitoefent (dutch). At the beambtenbar, simply getting a beer required an excessive amount of administration and negotiation, almost similar to trying to get a tax return.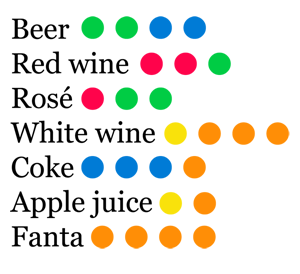 Any drink needed to be purchased with color coded tokens. The tokens could be bought in bags worth 10 euros each. However, none of the bags of tokens contained a combination of tokens with which one could purchase a drink.
To be able to buy a drink at It's Happening Now!, you would have to either buy several bags of tokens and try to get the combinations you needed, or start trading tokens with other visitors of the event.
The tokens did not have a uniform value. Yellow tokens were officially worth 3 times as much as orange tokens, red tokens were worth just as much as green tokens and twice as much as blue tokens, and yellow tokens were worth one and a half times as much as green tokens. However, in the marketplace, green tokens were soon regarded as a scarcity, and could only be acquired starting at four blue tokens or two yellow tokens.
Some of the visitors were so upset with the oppressive system for drink acquisition they left the event entirely, throwing the tokens on the floor as they went. Others saw the beambtenbar as an opportunity to engage in cutthroat trade, and managed to trade their way to some 30 beers on only one bag of tokens.