July 6th, 2011
Tags: appropriate technology, blair evans, charter school, detroit, fablab, incite focus, jeff sturges, maker space, michigan, mt elliott maker space, omnicorpdetroit, permaculture, ted sliwinski
Lately my blog seems more like a travel log and less like… hm well I don't really know how I would categorise it before… dormant? Either way, last month I went to Michigan, old stomping grounds of mine. Detroit has changed a lot in the last 17 years, (and so has Ann Arbor! Where is Books & …!?), although I don't really have a clear recollection to compare it with. Well at least I remember where my elementary school friends lived and got to drive by, pick them up and go to Zingerman's for lunch like nothing ever changes (except for pastrami sandwich prices, HOTDAMN 14 dollars?!).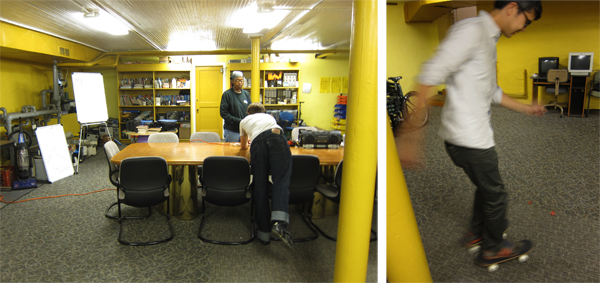 Mt. Elliott Maker Space and Jeff Warren on little skateboards.
I visited the wonderful Jeff Sturges, who used to have the original 2007 Mobile FabLab before it went to DC last year. He runs the Mt. Elliott Maker Space now, at the corner of East Grand and Lafayette, together with equally awesome Ted Sliwinski. There you can learn about soldering, bike fixing, video editing, synth playing, and soon I think also things about cooking, canning and commercial food production.
Jeff and Ted also run OMNICORPDETROIT (I think it requires all caps) the hacker space at Eastern Market. It's a huge space where people can join, get a desk and work on fabrication/design/agriculture/whatever without being lonely at home or running up a huge coffee bill at the local laptops-and-yuppies cafe. They also have parties and more awesome things and when I grow up maybe I'll work there too.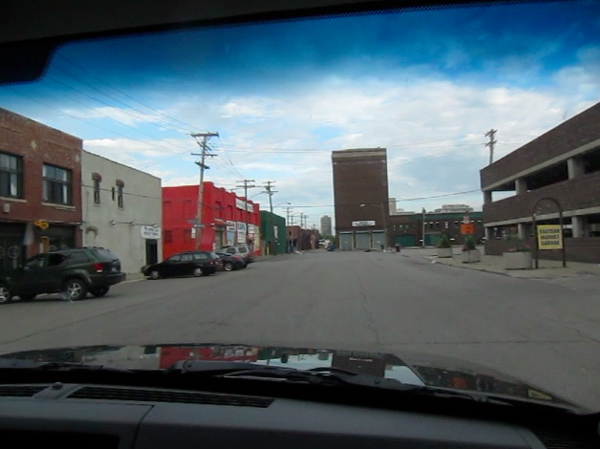 The street where all the bike polo goes down yes, next to Eastern Market.
OMNICORPDETROIT is also where I learned to play Bike Polo, during a Battle of the Bits concert. In case you have a terrible imagination or are unfamiliar with elitist equestrian sports, bike polo is like street hockey on bikes with smaller sticks. It is more fun than whatever that old DJ Shadow song is about in which you bash balls. I think Ted is captain of the Detroit division, but I'm not sure what the deal is in Cambridge– I need to find out. Email me with any info, this is important.
We also visited Blair Evans at Incite Focus, a full-fletched Detroit fab lab + permaculture + appropriate technology + experiential learning center located in the Samaritan Center– a charter school on Connor. Blair is the superintendent of 9 charter schools in Detroit now, including recently Catherine Ferguson Academy, a school for pregnant teenagers and teen mothers. The Samaritan Center makes me want to go back to high school– they have 2 large-scale ShopBots, laser cutters, photovoltaic stuff everywhere, green houses outside, and more triple-booting computers than I could count. There is a full-time fab lab staff and the school lunches even look good. I just remember having old books, a junky cafeteria and ten communal awful Windows computers. Well at least there was ISDN.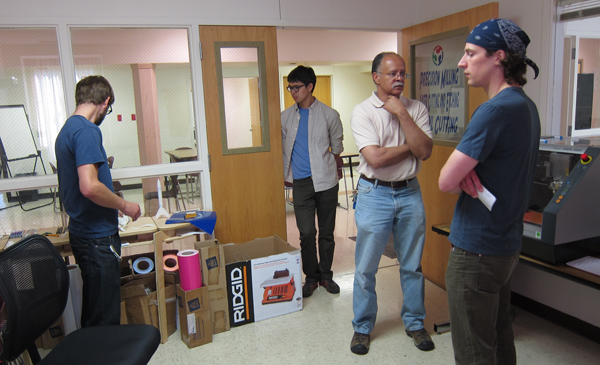 The only non-fuzzy picture I have, and everyone looks sad. I think we were tired from bike polo.
Mostly I know Blair from my advisor's fan-rants about how well he has been doing in Fab Academy, but now I'm impressed with everything he is doing BESIDES Fab Academy. He's only going to start running Catherine Ferguson Academy in September, but I think he's going to do an amazing job. I'm really happy that at least some talented people like Blair (who could have continued his comfortable life as a serial entrepreneur) are trying to make education better in the US– sometimes when I hear stories from the kids at SETC about the state of public schools in Boston, I almost want to cry.
I don't think fab labs are going to take over classic STEM education in the US, but for now at least it can be some kind of return to fabrication and manufacturing for a society floundering in this information age. It would be awesome if some illustrator reading this could make a drawing about how using facebook/twitter isn't really 'doing' anything, and that by now, with computers more powerful than what we got to the moon with in teenage pockets everywhere, we really should be able to do more than 'tweet'.
Anyway, like Jeff Sturges likes to say, EVERYONE MOVE TO DETROIT! It's great out there.