June 6th, 2012
Tags: career fair, MIT, pizza topping, recruitment, schlumberger
I don't know what compels companies to come up with odd doohickeys and trinkets to give away at career fairs, and who is responsible for deciding what this SWAGGGG is, but on a table of take it or leave it at the McCormick dorm I found: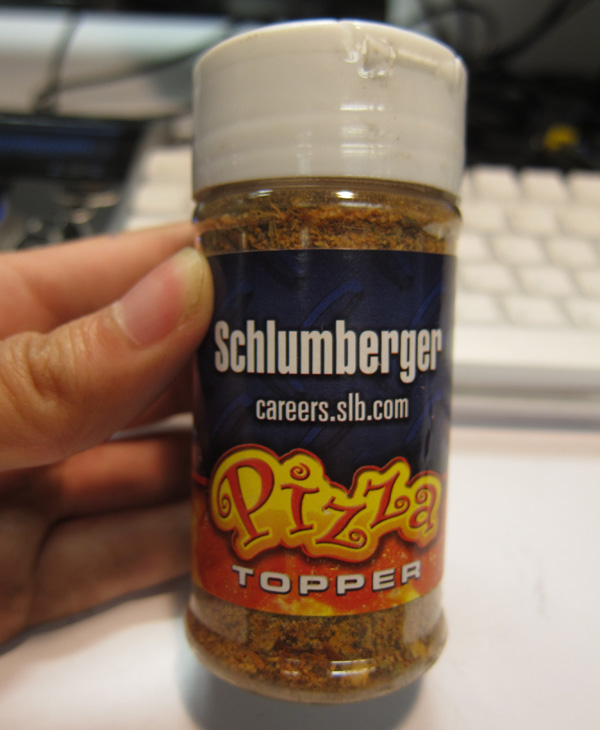 Check out that typography.


Ingredients: spices, salt, petrochemicals, lack of accountability, and they tried to add some radioactive stuff but they couldn't because they lost that somewhere.
In 2012 they don't have to come up with some euphemism for "oilfield services"?
I have some free ideas for some of the other companies interested in spicing up their career recruitment strategies:
Halliburton: toy subway cars with lay-it-yourself tracks, except the subway cars can't actually make the turn
SAIC: a little lead box that reads Virtual Case File
Heckler and Koch: anything phallic labeled Koch
Koch Industries: a bottle of formaldehyde
Northrop Grumman: toy navy boats that sink
BAE Systems: who builds nuclear bombs? we do! t-shirts
Raytheon: A limited edition Qee that has been stabbed in the face
General Dynamics: hazardous waste cologne
Boston Dynamics: puppydogquadcopter
You can contract me at the contact link below for other deliverables, but I doubt I can make it on budget, on time, or at all.